Accueil > Products > Simulators > PackSim-Flexo > PackSim-Flexo Overview
PackSim-Flexo Overview
The PackSim-Flexo Print Simulator is the perfect tool for all your training requirements. It is a powerful diagnostic training program that utilizes custom-designed software to simulate any flexographic printing press, and allows trainees to interactively practice problem-solving techniques.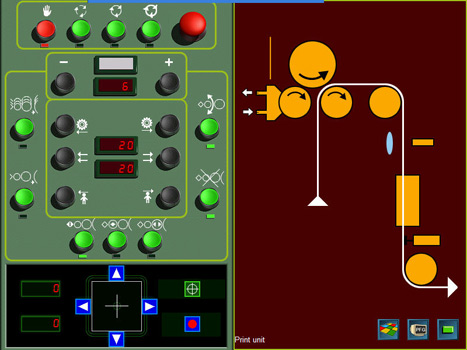 Dual monitors display the press controls and the printed product during the simulated press run. The visual displays react instantly to programmed press changes, differences in materials, and operational problems, but log the performance in "real press time." Three distinct press configurations are available : Wide Web, Narrow Web, and Corrugated . A monitoring and cost analysis feature, which can be programmed to reflect your own costs, allows for a correlation of effective press utilization with production economies. The software platform also permits unlimited linking of any multimedia digital information to the simulator, further enhancing the customization process.
This system can be used not only to train printers, but also to give suppliers the opportunity to demonstrate how different products and materials operate under varying conditions, and to expose the entire production team to the costs associated with print and material problems.
Keep up with the changing times and remain on the cutting edge of the flexographic print industry by bringing the pressroom to your staff, not the other way around.