Accueil > News and Events > Latest versions > What's New in version 7
What's New in version 7
Release Date : May, 2015
NEW – Generate your own Training Certificates
NEW : Review all session history for a Trainee
NEW : Benchmark results across different groups, sites and countries.
NEW : Simulator user Activity recorded in DLMS.
IMPROVED : Crisper Print Display
NEW : Print Jobs for Packaging – Run 6 Spot Colors
NEW : Multi-Level Diagnostic Help
VERSION NUMBERS AND AVAILABILITY FOR OPERATING SYSTEMS
---
NEW – Generate your own Training Certificates
Feature available for :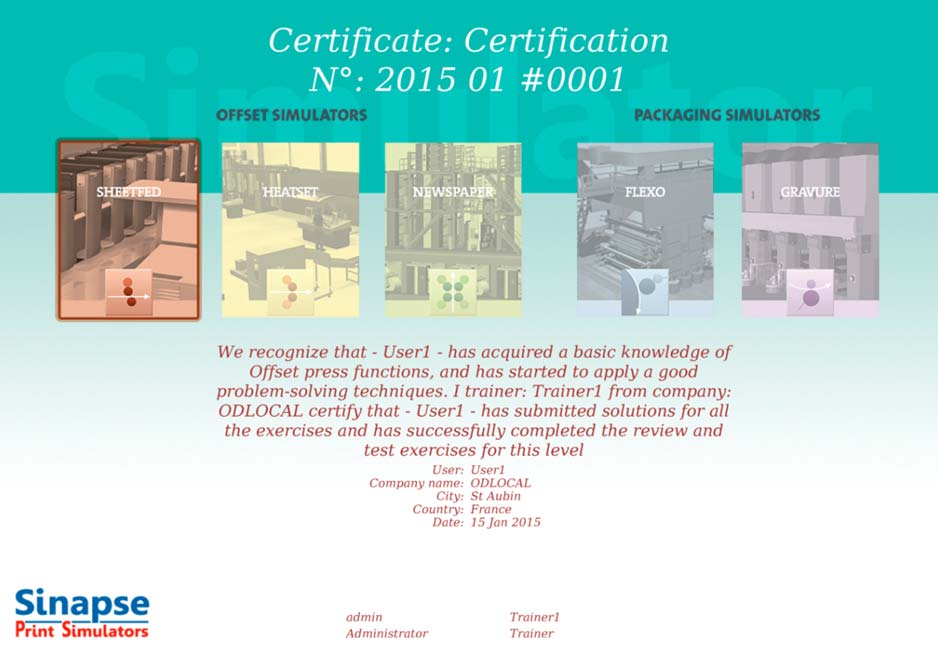 All trainees like to receive recognition for their accomplishments.

Successful competition of all the exercises in a course is certainly an accomplishment.
With this new DLMS function, the trainer can
Define a course as a set of pre-existing exercises
Assign this course to a group of students
Define a certificate which will be automatically generated for each student who does 100% of the exercises in the course and successfully solves at least 80% of them.

The certificate is personalized for each student : their name, the course name, the date the certificate was issued.
The trainer can adapt the certificate to show, ex., Company/School logo, Trainer signature, background graphics (wallpaper)
---
NEW : Review all session history for a Trainee
Feature available for :


The administrator, instructor or trainee can edit a report of time spent training on the simulator. This report will show (see example) all sessions, the time for each session and the total time for the calendar period.
Such reports are typically used to justify reimbursement of training time, within the organization or from external bodies that finance training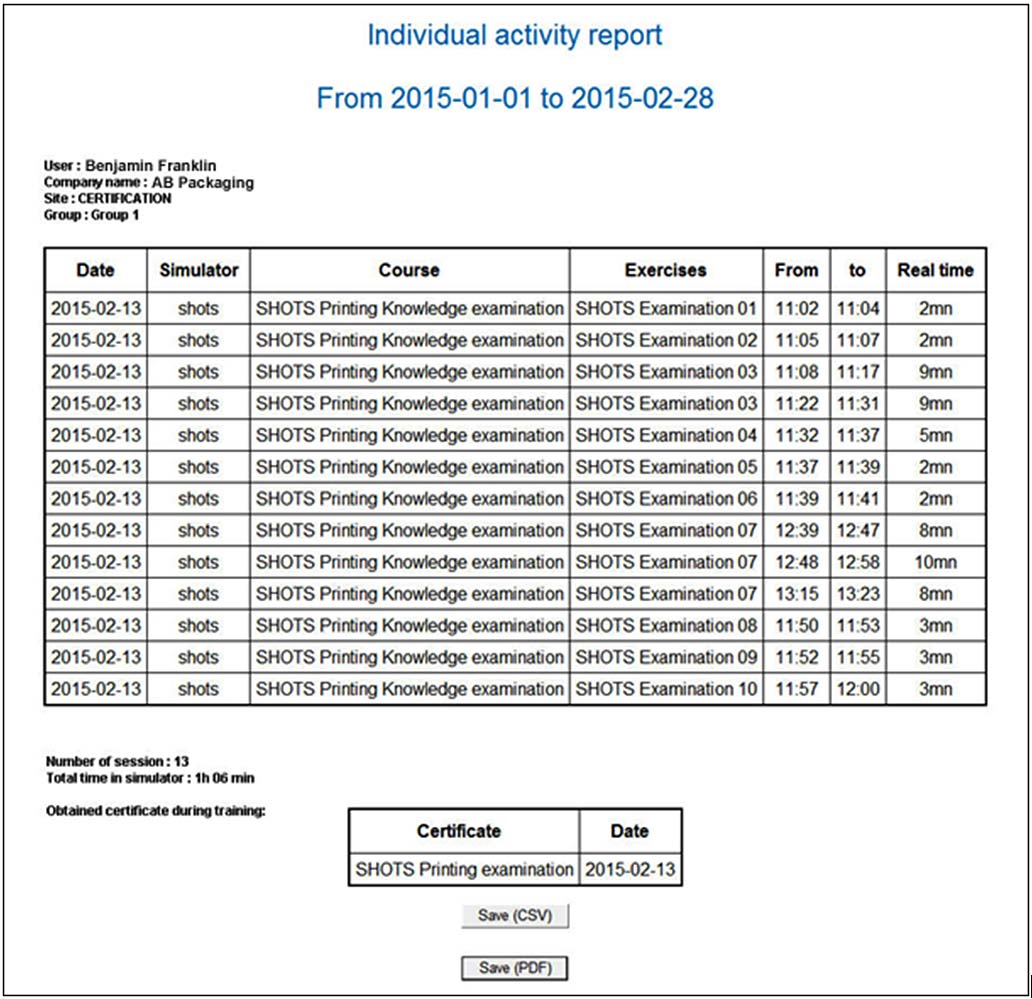 ---
NEW : Benchmark results across different groups, sites and countries
Feature available for :


Higher level comparisons are now possible in the DLMS training management system.
It is now possible to compare performance across the whole pool of trainees – irrespective of the group, site or language they use. For example, a comparison could be done between 12 production sites in the US, 3 in China and 2 in Latin America. The simulator would be used in 3 or 4 different languages, but the report can be in the language of the instructor's choice. This makes it possible to compare both the results from one site and the results from all sites.
The best result from all sites can then be set as the "reference solution" to which the others are compared.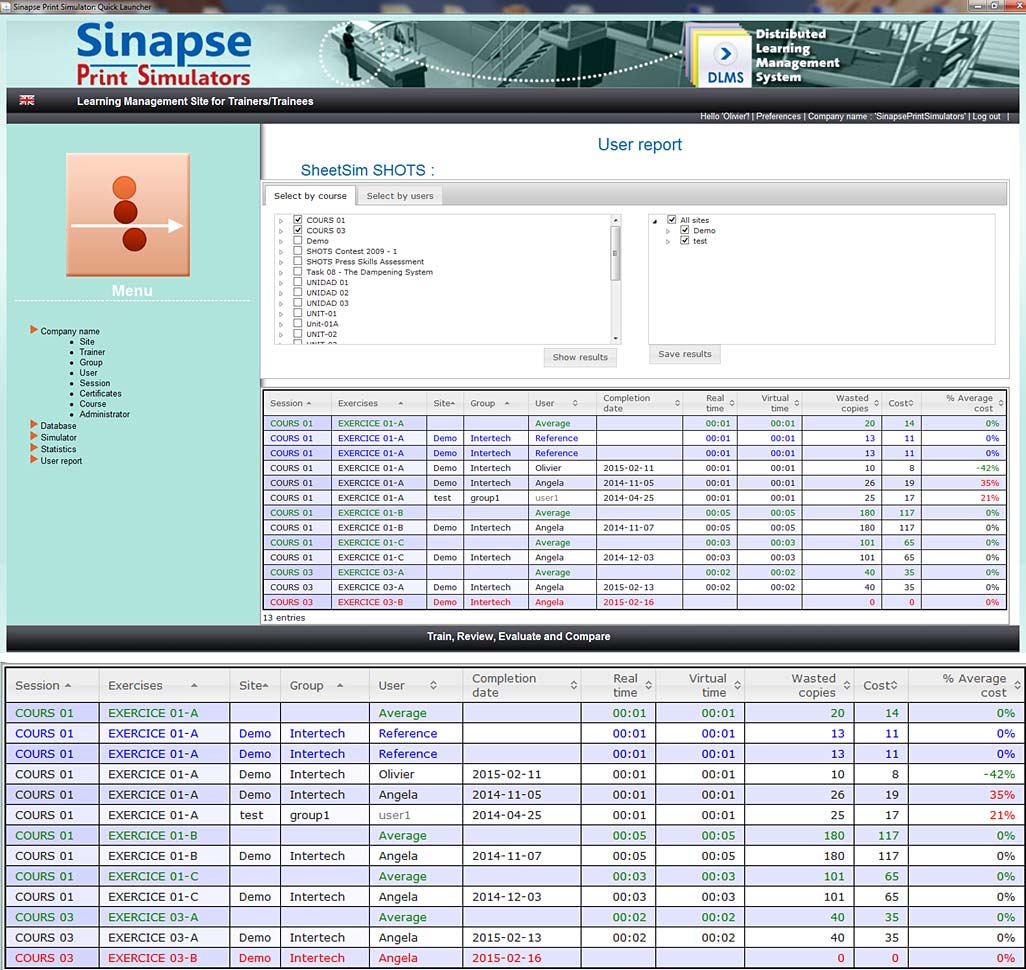 ---
NEW : Simulator user Activity recorded in DLMS
Feature available for :


Every month, the DLMS generates an activity report that shows simulator use for each site and group within the organisation. The report, generated in PDF format is sent to administrators (typically HR departments). This report can also be generated on demand for any calendar period.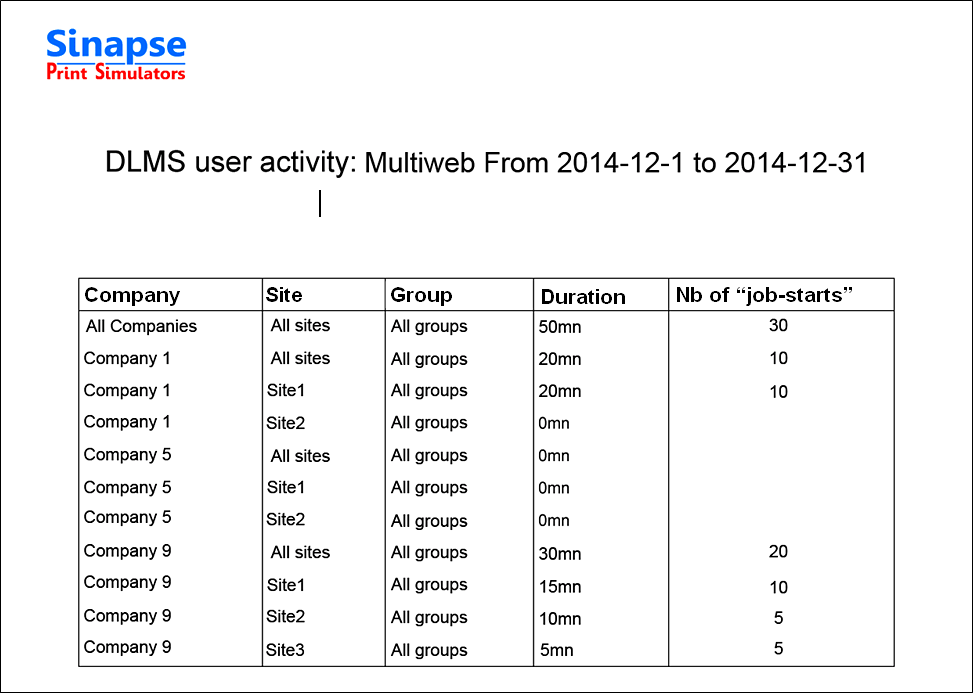 ---
IMPROVED : Crisper Print Display
Feature available for :

The print job creation and display has been greatly improved in this version of SHOTS.
Solids are better represented (very clear improvement when "magnified") ; drop-outs in white are clearer. Vectors corresponding to solid areas in print are now precise to one pixel, which ensures optimal rendering for full page view and in magnifier. The new 6-color printed below illustrates these developments.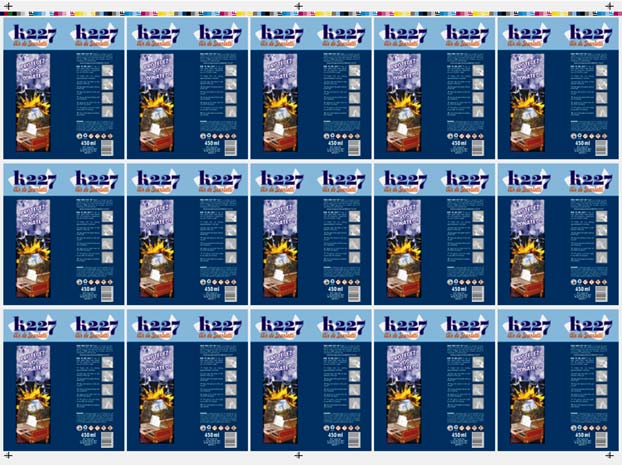 On the following page you will see one image magnified where these improvement can be appreciated.
Other improvements were made for the print jobs
New registration crosshair (thinner)
Color is now calculated with an industry-standard color library. This gives better color by widening the tonal range.
Proper rendering of solids as vectors – previously the print job generate only a 99% screen
Redesign of existing solid areas. Previous ones were choppy. (see below purple pins)
Cleaner cuts for image frame and color strip areas. (see below – blue pins)
All new Print Jobs generated by users will benefit from these improvements.
Refer to the Print Job Generator manual for instructions on creating improved print jobs.
A standard set of print jobs supplied with the simulator have been updated to the Improved Print Quality version. They are :
New, improved versions of previous print jobs : these install automatically and replace the old versions in all exercises
Examples of PrintJob Improvement : Comparison with previous jobs
---
NEW : Print Jobs for Packaging – Run 6 Spot Colors
Feature available for :

It is now possible to change the color sequence on the press and create a print with up to 6 pantone colors, to be ready for packaging requirement.
This is a major improvement on older versions, where a 6-color print job in SHOTS consisted of four colors – CMYK in only one possible sequence and two additional spot colors on printing units 5 and 6.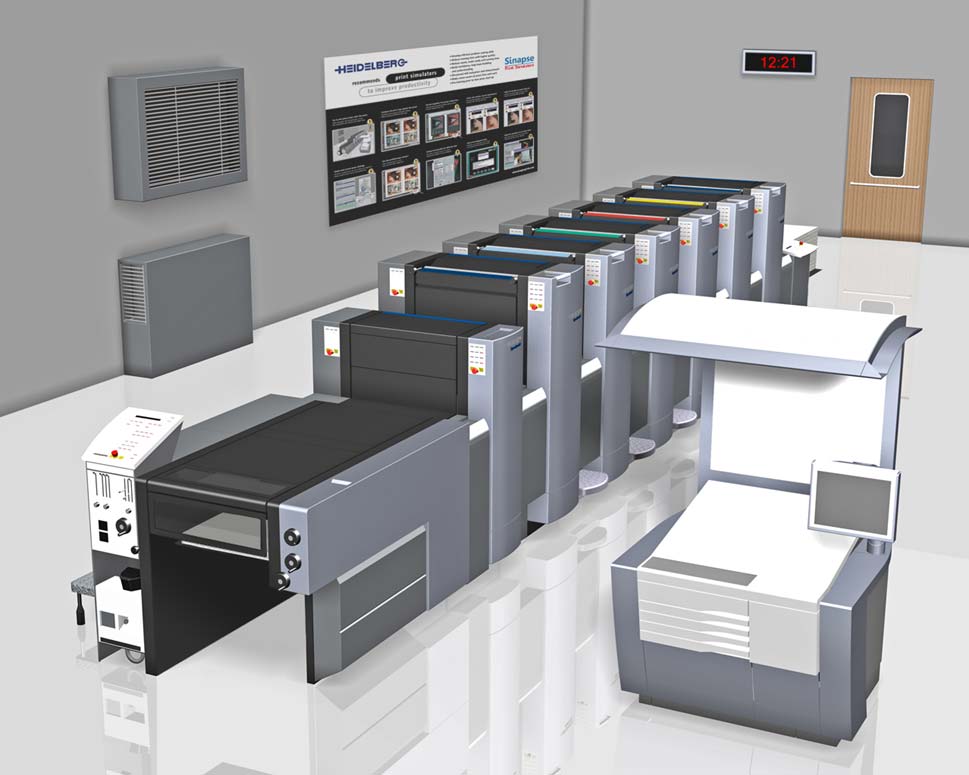 Example of 6-color print job with 6 different Pantones : P2725C in PU1, PYellow in PU2, P021C in PU3, PGreen in PU4, P2975C in PU5 and P2955C in PU6 : "PU" = ¨Print Unit
---
NEW : Multi-Level Diagnostic Help
A similar diagnostic system is already available for Flexo, Heatset, News and Gravure simulators
Feature available for :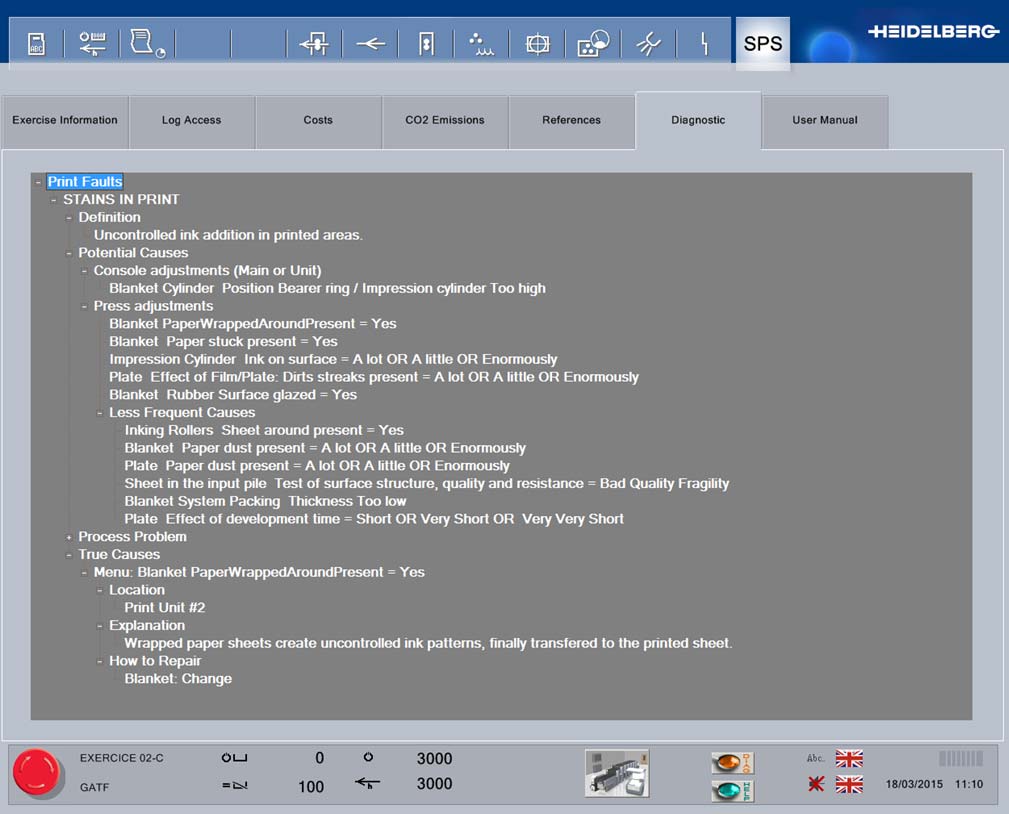 The new SHOTS Diagnostic System helps trainees Name, Find and Fix the print faults. For each current print fault, the diagnostic system shows the potential causes, grouped by the ways to fix them (console or press adjustments). It is generally advisable, and less expensive to try and solve a problem from the console.
The first 5 major causes are fully displayed. The user can visualize the complete list by clicking on "Other Causes")
The system is able to give the real cause and the location on the machine and what to do to solve the problem.
In other words it tells the trainee what's wrong, and how to make it right.
This is a great improvement on the prior help system, which only suggested "possible causes"
---
NEW : Structured HELP SYSTEM
Feature available for :

This help system is a complementary tool to the new diagnostic system.
This system shows ALL print faults, ALL press and materials parts and ALL the relations between them.
For each Fault the user sees all the possible causes – where they are found on the press– and what other faults may be triggered by the same cause. For each Component (press part, paper, ink, etc) the user sees all the related problems and the print faults that can be caused.
Clicking on the "Help System" icon brings you to the next screenshot, where the help system is opened, focused on current defaults on print copy, with additional details.
Sample screen from Help System – showing faults – and their causes
Whenever a press component is part of this information, it is highlighted in the diagram. This is now a very powerful system for understanding the relations between the parts of the offset process.
It can be used as a press-side diagnostic help system
---
| | | | | | | |
| --- | --- | --- | --- | --- | --- | --- |
| | Products | Version | WinXP | Vista* | W7 | W8 |
| | SHOTS | 7.0 | N/A | N/A | X | X |
| | SHOTS TouchConsole | 7.0 | N/A | N/A | X | X |
| | WebSim-Heatset | 7.0 | N/A | N/A | X | X |
| | WebSim-Heatset TouchConsole | 7.0 | N/A | N/A | X | X |
| | WebSim-News | 7.0 | N/A | N/A | X | X |
| | Packsim-Flexo | 7.0 | N/A | N/A | X | X |
| | Packsim_Gravure | 7.0 | N/A | N/A | X | X |