Portada del sitio > Spanish > Por qué los simuladores son una Buena solución. > Implementación en la educación.
Implementación en la educación.
Cientos de escuelas y centros de entrenamiento utilizan los simuladores de impresión SINAPSE en todo el mundo.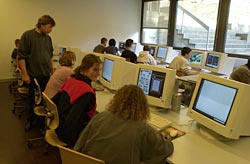 Se sugiere que se eche una Mirada a esta corta presentación preparada por la Sra. Eva Paap, del HdM Stuttgart, una de las escuelas gráficas alemanas de más prestigio. En ella, la Sra. Paap explica la manera en que integraron los simuladores de offset de pliego y rotativa de secado por calor a su currícula. El HdM tiene actualmente 4 simuladores de pliego y 2 de secado a calor.
Why and How do simulators fit in a training program? Find more details in this presentation done by Sinapse during the GATF Teacher's Conference in October 2008.


GATF Teacher's Conference October 2008